Oban's Myths & Legends
Big Turtle
A Native American - Huron story
retold by Oban
Many years ago the world had two parts.
Animals lived in the lower part, which was was completely covered in water and had no land or soil. Above was the Sky World, where the sky people lived.
The Sky World had lots of soil, with beautiful mountains and valleys. One day a girl from the Sky World went for a long walk and became very tired.
"I'm so tired, I need to rest" she said. She sat down under the spreading branches of an apple tree and quickly fell asleep.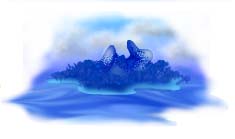 Suddenly, there was a rumbling sound like thunder and the ground began to crack. A big hole opened up next to the apple tree.
"What's happening?" screamed the frightened girl. She tried to move but it was too late. She and the tree slid through the hole and tumbled over and over towards the watery world below.
"Help me! Help me!" screamed the girl. Luckily two swans were swimming below and saw the girl tumbling down from the sky.
"Come on!" yelled one swan. "Let's catch her before she hits the water"
"Okay!" yelled the other. continue